Receive a personalized Indie Head massage experience in Leamington, Ontario. Indie Head Massage is an exhilarating Ayurvedic Treatment excellent for headaches, migraine and neck tension. You can experience this form of massage which is one of the oldest forms of medicine known to humans.
What is Indie Head Massage?
Indie Head Massage includes massage of the shoulders, upper back, upper arms, neck, face and scalp to provide energy balancing. It is based on a traditional form of head massage practiced in India for over 1,000 years.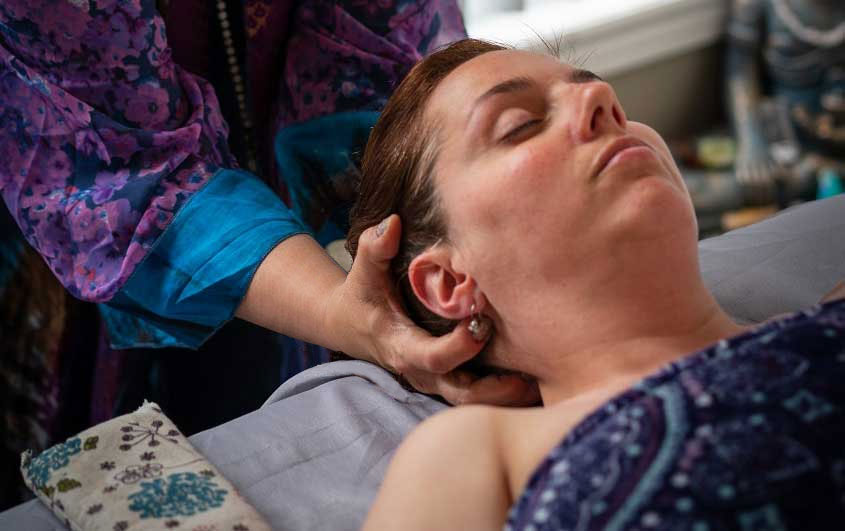 It is a wonderfully relaxing therapy. The massage is safe and very effective. It can provide relief from aches and pains, stress symptoms, and insomnia, as well as promote hair growth, soothe, comfort and re-balance your energy flow giving you a deep sense of peace, calm and tranquillity.
An Indie Head Massage will energize your mind and allow tension to slip away. It is both a therapeutic and beauty treatment with many wonderful benefits.
Benefits of Indie Head Massage
Helps reduce neck and shoulder stiffness, sinus congestion, eye strain, jaw-ache
Improves circulatory and nervous system
Free knots of muscular tension and relaxes connective tissue and scalp muscles providing relief from aches and pains
Revitalizes and rebalances energy flow throughout the body
Improves concentration, and clarity of thoughts
Increases drainage of lymphatic system, helping to eliminate toxins and waste products from tense knotted muscles
Strengthens the immune system
Increases alertness and relieves mental fatigue due to the increase of oxygen to the head and brain
Induces a feeling of euphoria